A new review of secret campaign emails leaked from Susana Martinez's campaign email accounts by former staffers located emails between the Rio Grande Foundation and Republican operatives looking for a "sugar daddy" to pay for a fake report and new narrative designed to "win all close elections" against Democrats "dumb" enough to oppose it.
The Emails
On Thursday February 17, 2012 the Rio Grande Foundation's Paul Gessing emails Republican lawyers Mickey Barnett and Duncan Scott along with former sheriff and failed congressional candidate turned Republican operative Darren White and the governor's top political operative, Jay McCleskey "RE: Question and potential study."
Gessing is fishing for funding to create a "study" to support a new push for right to work (for now, let's set aside the problem of funding a "study" to reach a pre-determined conclusion).  And Mickey Barnet responds to Gessing and a who's who of New Mexico Republican leaders and Susana Martinez operatives.
Read the full emails and more about the plan at this post.
Who's Who?
Duncan Scott is a former state senator and member of Governor Martinez's transition team who later went on to be the founding president of the pro-Martinez non-profit New Mexico Competes, along with Republican National Committeeman Pat Rogers. He is a partner in the Albuquerque law firm Scott & Kinzle, PC with Paul Kinzle, general counsel for the governor's re-election campaign.
Scott was a controversial figure in his home state of Montana and the Libertarian Party, according to this odd post we found in internet archives.
---
Mickey Barnett has been a Republican staple in New Mexico politics since the 1970's when he was an aide to Senator Pete Domenici.
Barnett has deep roots in the anti-worker movement to pass so-called "Right to Work" legislation, too. Just before becoming a State Senator in 1980, Barnett sued Gov. Bruce King over King's veto of anti-worker legislation that passed the legislature in 1979. Barnett was looking to disqualify King's veto so the "right to work" bill could become law.
Barnett was also implicated in the controversy surrounding the politically motivated firing of U.S. Attorney David Iglesias in 2007. He is now a practicing attorney in Albuquerque.
---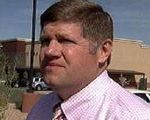 Darren White is a former Bernalillo County Sheriff who resigned in 2010 to implement public safety reforms in Albuquerque Mayor Berry's new administration. Police shootings skyrocketed after his arrival.
White previously ran a failed race for congress and later left the Berry administration under pressure and was hired by the Downs at Albuquerque to manage construction of a new racino. He is a frequent defender of Governor Martinez and McCleskey operatives online.
---
Known as "the Fifth Floor," Jay McCleskey is Susana Martinez's top political advisor. He is a highly divisive figure inside the Republican party. Companies connected to McCleskey made more than $101,000 per day from Martinez and other pro-GOP campaigns in the closing days of the 2014 election.