The so called "Grand Old Party" has become the GOP, party of political violence, and has hatefully nurtured the extremism that led to the Pena conspiracy.
On Monday, January 16, Solomon Pena (in his own campaign literature Pena does not use an "ñ") was arrested for his planning and involvement in the shootings that targeted Democratic politicians around Albuquerque over the last month. Pena himself was a candidate for the New Mexico House last year, running unsuccessfully for district 14 which covers much of Albuquerque's metro areas. After losing the race nearly 3-1, Pena declared in a tweet that he "…never conceded my HD 14 race. Now researching my options."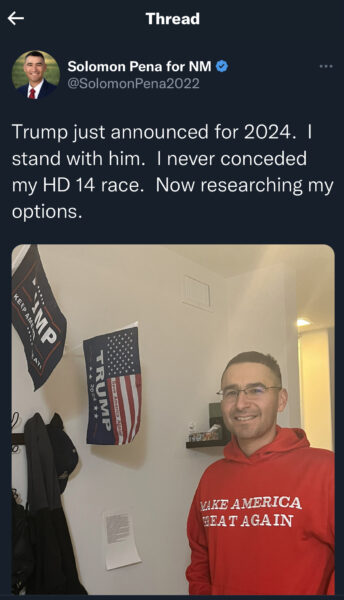 This isn't surprising considering Pena has a history of election denial and making false claims similar to other New Mexico election deniers like Couy Griffin and David Clements. Prior to the shootings, Pena had angrily approached various elected officials to challenge the 2022 election results citing debunked conspiracy theories about elections.
Pena was arrested along with four other men that authorities are saying he hired to do the shootings, only one of which was named in early reports. It is worth noting that Jose Trujillo, the named accomplice, appears to have been connected to Pena through campaign contributions during Pena's race as well.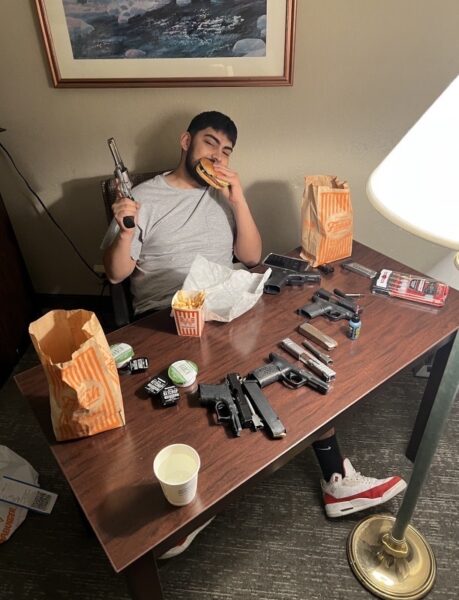 According to the Albuquerque Journal, Trujillo was arrested first, less than an hour after the shooting on January 3rd that targeted Sen. Linda Lopez' home. Trujillo was driving a car registered to Pena.
Much of the details of the case as we know it are well documented in an Albuquerque Journal article, including a timeline of which leaders' homes or offices were targeted.
But we'd like to look at something else for a moment. Campaign finance reports. According to Pena's filings with the Secretary of State's office, another name immediately stood out, Michael Fletcher. Fletcher was Pena's third highest donor, contributing nearly $4,000 to his campaign. Fletcher was identified in 2020 as being the driver of a vehicle that ran through a crowd of protestors in Albuquerque, although it appears charges were never filed in that case. We will remind readers at this point that during the 2020 protests, Albuquerque Police were recorded as calling armed vigilantes who threatened protesters "friendlies" and took little to no action against those Right Wing extremists.
A further note on Pena's campaign finance reports showcases just how insidious the oil and gas industry really is in this state. Oil magnate Harvey Yate's Jalepeño Corporation was Pena's number one donor, with a max contribution of $5,000. While Yates was especially prolific in his campaign donations this year, both personally and through Jalepeño Corp, the reality is that with the mainstream GOP being so inundated with Far Right MAGA extremists, it feels incredibly important to remember that the funding behind all of them originates with oil and gas money. This should give us pause to think about how, while largely hidden, far-right election denial and domestic terrorism are supported by mainstream Republican donors. Throughout the 2022 election the Republican Party of New Mexico mostly backed off from supporting extremist candidates and, like Pena, lost handily all over New Mexico. Pena's arrest, however, shows that it is not only important that major political parties withhold support from extremist candidates, they must also loudly denounce the false claims and dangerous rhetoric those candidates spew.
We fully expect the NMGOP to stay in silent denial or  attempt to cover their own asses because  the responsibility of the attempted murder of six Democrats in our state rests with the NM GOP and the groups that support them. Sure, the plan was developed and carried out by Pena and some far-right friends of his. However, Pena arriving at the point where he thought this political violence was acceptable is a predictable product of the lies, violence, and lack of accountability that the GOP employed and enjoyed since AT LEAST 2020. When Trump lost, the GOP amplified his lies of a stolen election. When the insurrection and attempted coup on our Nation's capital took place, the GOP claimed the insurrectionists were patriots. All across the country, GOP members are part of far-right extremist groups such as the Proud Boys, III% (three percenters) and more.
In our own state house, John Block was just sworn in and was not only proudly at the insurrection in DC, but also consistently uplifts dangerous and incorrect information in his blog, Pinon Post. The failed Secretary of State candidate, Audrey Trujillo, ran her entire campaign on conspiracy theories of election deniers. The NMGOP didn't hatch the plan or pull the trigger, but their continued lack of moral accountability and ability to tell the truth emboldened Pena and won't stop with his arrest. While the NM GOP and election deniers like Couy Griffin and David Clements will all no doubt try to deflect attention from this recent violence and extremism, it's important to note the moral responsibility they hold and the green light their false claims give to people like Solomon Pena to terrorize New Mexico communities.