One year ago today, same-sex couples in New Mexico woke to the news that marriage licenses were being issued in New Mexico.
ProgressNowNM first broke the story on Twitter
BREAKING: Dona Ana County Begins Issuing Same-Sex #Marriage Licenses in New Mexico!- @ProgressNowNM
— ProgressNOW NM (@ProgressNowNM
Not surprisingly, it was a busy day for Dona Ana County as couples filed in from across Southern New Mexico, Texas and eventually even Albuquerque and beyond:
Shortly before the close of business, Ellins estimated that the county clerk's office had issued about 40 marriage licenses to same-gender couples its first day.
Throughout the day, the office was bustling with activity, as same-sex couples from not only Las Cruces, but also Texas, Albuquerque and other places visited to get their licenses. – Las Cruces Sun-News
Six other county clerks followed suit, most by asking a court for express authorization which came quickly in each case.
ProgressNowNM members raised more than $30,000 for Ellins' legal defense fund.
Santa Fe's first same-sex marriages quickly followed the first licenses as several couples joined together in the county building to marry immediately after receiving their licenses from County Clerk Geraldine Salazar.
In Bernalillo County, Clerk Maggie Toulouse Oliver sought a court decision and began issuing licenses on September 1st. We joined Equality New Mexico in hosting a mass gay wedding on Civic Plaza at noon. More than 200 people attended to watch couples marry. The event was featured in the New York Times the following day: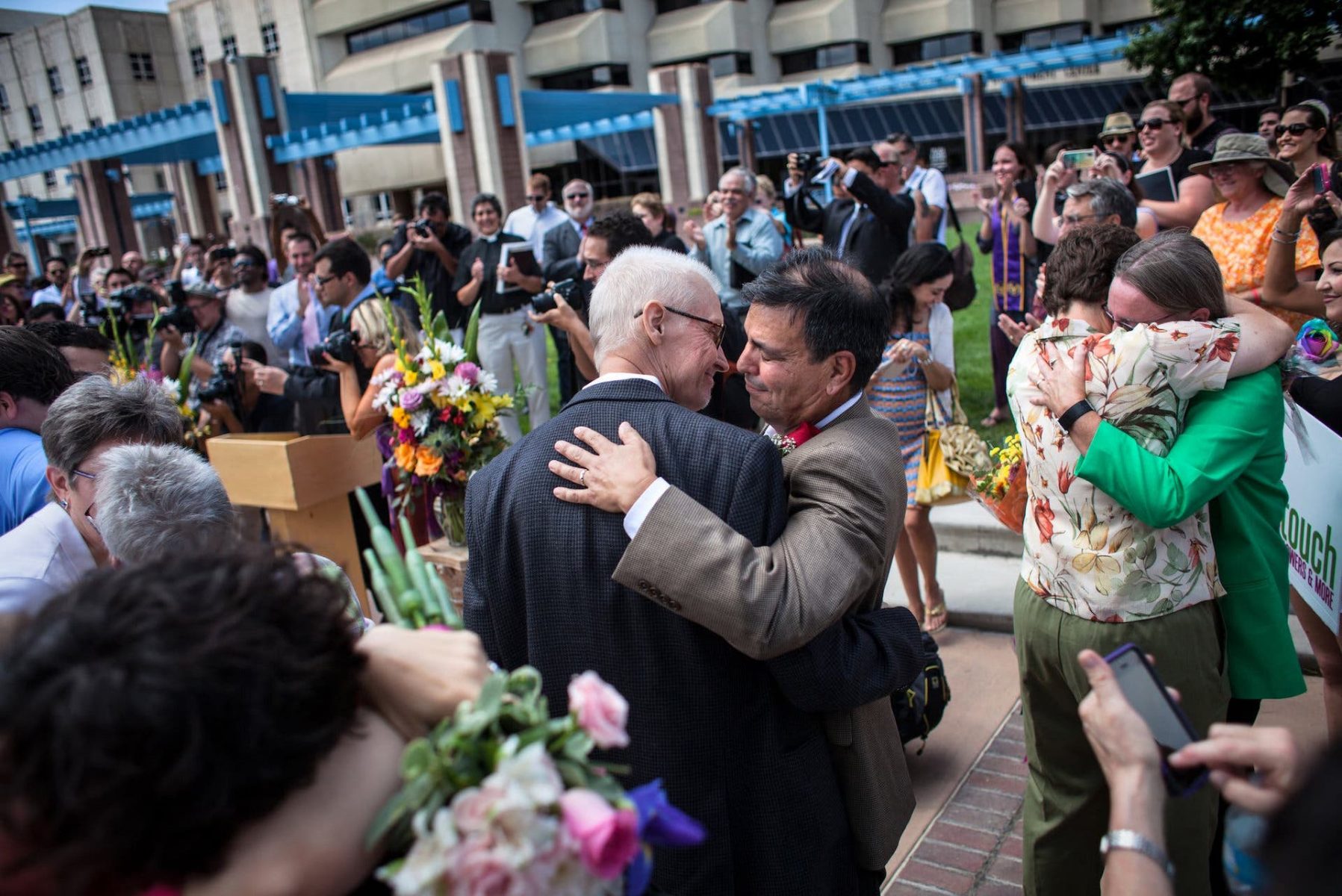 "Marriage Licenses for Same-Sex Couples Force Issue to Fore in New Mexico" – New York Times, Sept. 2, 2013
A legal case to the state Supreme Court quickly followed with passionate hearings on October 23 as New Mexicans of all stripes gathered in the courtroom, overflow rooms and watch parties across the city to hear arguments:
RT @ProgressNowNM: Watching. Waiting. Hoping. #MarriageEquality@equalitynm@ACLUNM@whymarriageNM@HRC

— Progress Now (@ProgressNow)
The big news came just in time for the holidays. On December 19th, 2013 the New Mexico Supreme Court announced it's decision:
"We hold that the State of New Mexico is constitutionally required to allow same-gender couples to marry and must extend to them the rights, protections, and responsibilities that derive from civil marriage under New Mexico law" – Justice Chavez, New Mexico Supreme Court, December 19, 2013
And Twitter, Facebook and same-sex couples across New Mexico erupted in celebration:
LOVE WINS IN THE LAND OF ENCHANTMENT

— Equality New Mexico (@equalitynm)
It's been an amazing year for progress in New Mexico. But we can't forget that this effort didn't happen overnight. It began years ago with some significant milestones along the way. There were the Sandoval 64, the legal opinion by Santa Fe City Attorney Geno Zamora and great organizing by New Mexico's equality organizations like @EqualityNM @ACLUNM and @ProgressNowNM and all the partners who joined to advance and defend equality under the @NMUnites banner.
Many of those groups are celebrating one year of equality tonight in Albuquerque. See the Facebook event for full info.