Like many New Mexicans, members of PNNM are parents, and dealing with our children during the COVID-19 pandemic is a whole other level of worry, exhaustion, and exercise in mental health. Here's a smattering of some shard parental angst we've seen personally from this last week:
"Here here! Back in lockdown after our daughter was exposed by a VACCINATED adult at her preschool who contracted #COVID. School is closed for 10 days and we're back to making Harry Potter wands, snuggling animals, and pulling weeds while on calls. Sorry in advance to clients."
– Working father of two children under 12
12-year-old daughter: "If I wasn't vaccinated, I would be terrified of these people."
Single dad: "Your family?"
12-year-old daughter: "Yes. We're at the mall and they came in with no masks and said they don't need one because it's fake."
"CAN EVERYONE JUST GET THE VACCINE PLS. Seriously, like every child under 12 is not vaccinated, for the love of God, PLEASE."
– Mother of three, two of the kids under 12
"The kids have covid. Again."
– Working mother with a four- and six-year-old
The Delta variant is on the rise, schools are about to reopen, and the stress and fear that parents are experiencing is palpable and paralyzing.
Will my kids get sick? Will my kids have to go to the hospital? What happens when classrooms get shut down due to exposures? Will I have to work from home again? Will we have to do online school? Can my mental health take another round of this? What am I going to do with the kids while I work? Will my kids get my elderly parents sick? Will someone in our family die?
Despite New Mexico being one of the leading states in the nation for vaccination rates, we are still only at 56.1% of eligible people getting the jab (eligible in this case is anyone 12 and older). Oh! And the part that we don't like talking about while also claiming to be a community that prioritizes kids: OUR KIDS CAN'T GET VACCINATED YET.
But that's fine, right? "Covid doesn't affect kids the same way it affects the elderly or high risk. It's just like the flu. The kids' mental health is more important. Who can ask a kid to wear a mask ALL DAY LONG?" We call BS on those arguments. Despite the opinion of anti-vaxxers and mostly QAnon subscribing folx, Covid is NOT the same as the flu. Covid still has potential long term health implications that we don't even know about yet, but we're cool just letting our kids get it because we don't like masks and shots?
Over 600,000. That's how many people have died from Covid in the US alone. This is  249 times more people than Pearl Harbor (2,403) and 200 times more people than 9/11 (2,977).
We have, as a nation, literally gone to war over with less lives lost, yet somehow, we are unwilling to do what needs to be done to fight this pandemic and protect our kids.
It's become so difficult to get grown adults to opt in to receive a vaccine that could save their life and the lives of those around them. Memes, like the one below, are popping up all over the place.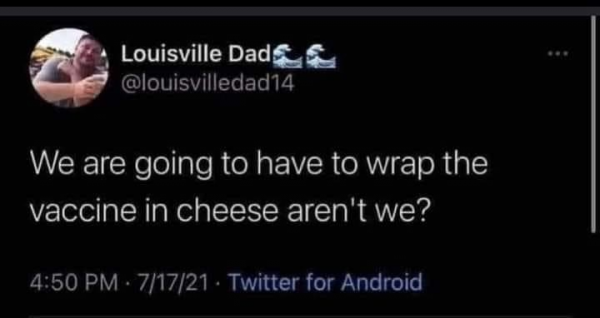 While it gives us a good chuckle for a minute, the reality that we literally have to pay people (the equivalent to wrapping it in cheese) to help prevent the spread of a global pandemic sure is bleak for our society.
Let's talk for a minute about what this means for families beyond the already exhausting fear of a child getting sick. Every time there is a positive case in a classroom, the room shuts down and the kids have to stay home for a minimum of 10 days. This means an adult has to stay home with them. So, who does this? A working parent, maybe one who has the flexibility even to work from home. Have you ever tried working, really working, with children at home? Let's be honest, when you are a parent and an employee at the same time, parenting always wins. Okay so worst case, you're not as effective for 10 days. Right.
But then it happens again.
And again.
And before we know it, schools are shut down again and we're back in the emotional exhaustion and overwhelm that so many parents (disproportionately women and women of color) found themselves in last year. And that's if you're in a situation where you have the flexibility to "work" from home while your kids are there. What if you don't? What then?
The effect of people opting not to get vaccinated, stretches far beyond the already terrifying perspective of children and vulnerable people getting sick. It affects economic stability (for women in particular). It affects our children's ability to learn in a classroom setting with friends and social interaction, it affects mental health, and the list goes on and on and on. For a society that values quick fixes, we're boggled at the number of people not taking this proven fix.
From our hearts to yours. For the safety and protection of our children. Please. Get the damn vaccine and wear a mask.