Last night the Las Cruces Public School Board passed a Gender Inclusive Language policy that, amongst other things, protects and enshrines the  value of students' gender identity including their pronouns while at school. The vote was 4-1 with the lone conservative member of the board, Carol Cooper, as the dissenting vote. The vote came during the first seating of the newly-elected member of the board Bob Wofford, the first openly gay member of that body.
This report is coming directly from me, Lucas Herndon, as a graduate of Las Cruces Public Schools and a parent of a child currently attending LCPS. This is a slight departure from our usual blogs and emails, but this issue became deeply personal to me right at the jump.
I've worked with ProgressNow New Mexico for over six years and initially attended the first reading of the gender inclusive policy back in the November 2021 meeting for work and in support of other organizations that were there in favor the policy that day. However, a personal matter at my child's school that occurred that very day required that when I spoke at that meeting I took off my professional hat to speak as a parent of a child directly impacted by the policy being considered. That's how I'm going to tell this story.
I also must say, my own recounting here is as a cismasc white person who spoke as a father and ally to all affected parties. My own organizing was within my own circle of friends and family and none of the what happened would have been possible without the EXTREME bravery of a number of trans youth who showed up to speak their own truths, all the while being openly denigrated from members of the conservative crowd. Also the organizations that showed up, most especially (but not exclusively) Bold Futures. This is not my success in any way—just my telling of how I saw it go down.
The context:
The first meeting in November was heavily attended by right—FAR-right in many cases—leaning members of the public who were there spewing vitriol against the policy itself, of course. They also unsurprisingly dipped into extreme conspiracy theories like the dreaded and completely misunderstood Critical Race Theory issue and anti-science COVID misinformation.
What was troubling was the number of younger, mostly white, mostly men in attendance who were all signaling their  allegiance to far-right gun culture through their clothing and masks (or lack of masks, though thankfully the security team at the meeting was very quick to require them to  put them back on). Many of them didn't speak, leaving the speaking to older and less threatening messengers who nonetheless towed  the  line of transphobia, homophobia, and ultra Christian Nationalism. As someone who's studied and  reported on these guys for years now, it was hard to not feel the  weight of their presence. Additionally, these types of guys have been showing up around the country (we've talked about this before), and it was unnerving to say the least.
This caused me to realize we needed support. We needed the community to show up for our LGBTQIA+ students in a big way. My live tweeting of that first meeting caught the eye of renowned conflict journalist Robert Evans who contacted me to appear as a guest on his podcast It Could Happen Here, where he discusses the parallels of current events here in the US and issues that have led to actual conflict, violence, and even revolution in places around the world where he's reported.
Between that signal boost and working with local organizations, we showed up in force to the subsequent school board meeting in December where we clearly outnumbered  anyone there to speak in opposition but also actively discouraged many, and I use this word specifically, bigots from even staying in the meeting.
The outcome:
The vote yesterday (January 4, 2022) prompted the other side to return in force, though noticeably it was the older crowd of speakers again and not the younger and gun-culture types. Not to minimize their presence because they did have more speakers overall, but not by much and their talking points were still rooted in vitriolic transphobia, homophobia, and Christian Nationalism.
Speakers from the trans community, teachers, and other LGBTQ+ organizations instead spoke directly from the heart, relaying their  experiences in Las Cruces school classrooms and espousing the idea that this policy could literally help save lives.
At the time of this writing the video archive of the meeting isn't available, but when it is, we will link it here and you should watch. It will move you to tears.
For my own three minutes at the lectern I just tried to convey absurdity of the argument from the other side. The notion that "this policy isn't needed because this isn't even a problem" but also "if this is a problem why isn't it being addressed with current policy?" was clearly at odds with each other and that, again, as a parent of a kid who's witnessed these issues first hand and experienced the failure by school officials to address it pointed to the very specific need for this policy to exist.
After public comment the board took up the issue and, after an failed attempt by Cooper to table it, each of the other four members took their opportunity to speak to why they'd be voting yes. I cannot quote them directly because again I don't have the video yet, but I tried to capture their  thoughts as I tweeted and I'll add those here. But I want to round this out by giving a nod to each member for their own personal reason as I experienced it.
President Ray Jaramillo began his portion by reintroducing himself using his pronouns and stating that, since adding them to his email signature he'd received a lot of hateful comments and messages back and it made him realize that if he, as a straight male was so demonstrably condemned  for wanting to be clear about his own pronouns, the level of intolerance for those who don't identify that way must be that much harder, especially young people. He also emotionally told a story of when he first entered into the world childcare (he runs a preschool professionally) he had been attacked a number of times under the guise of "he must be a pedophile to want to work with young kids," and that the slanderous  use of  that term from many in the crowd at the meeting toward the trans community specifically was so triggering that he was so proud to vote yes on this policy of inclusion, he stated he considered it the most important thing he's voted on to date.
Pamela Court's comments centered on one of the speakers from the audience, a friend of mine named Vib who is a transmasc activist who went to school here and had, from his own testimony, lived through hell in high school, admitting to attempting suicide and cutting. Vib had Ms. Court as a teacher, and Court recounted that his testimony broke her heart. She realized that, even if she was one of the teachers who did try and provide a safe space back then, she didn't know about Vib's struggle and that this policy showcased the long overdue need for more inclusive policies up and down the system we all live in so that people like her could all do better.
Teresa Tenario pointed out that it was the actual words of every person who spoke AGAINST the policy that showed the need for it more than anything. The unbridled transphobic language, micro aggressions (and outright aggressions) proved beyond a shadow of a doubt that helping EVERYONE become more educated about gender inclusion, even seemingly simple things like language and pronouns, would go along way from preventing the next generation from becoming as ignorant and hate filled as the crowd in the room speaking against the policy.
And finally, Wofford who again is the first openly gay member of the board, his comments were as you can imagine so very touching. He acknowledged his predecessor Señora Maria Flores who'd staunchly voted to move the policy forward twice and stated in her last meeting in December that she regretted not being able to see it through to its final vote. But Wofford's point was that he was thankful  because that meant that his first vote as a newly-seated member of the body was for a policy that helps kids he saw in his years of teaching struggle with the burden of being gender non-conforming and anywhere else along the queer spectrum. He was so proud to vote yes.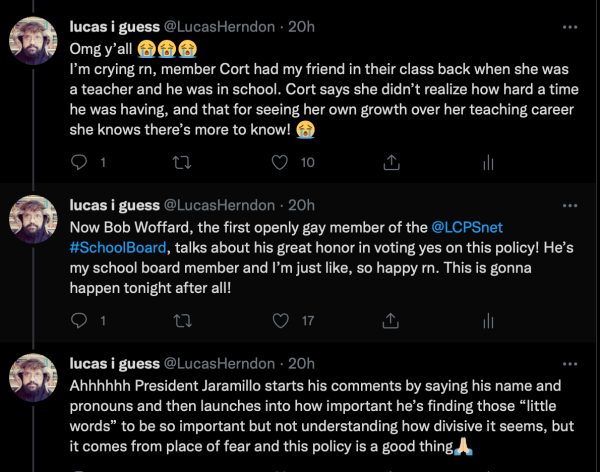 This recounting of an otherwise great progressive win in a New Mexico political body has been different from most that we've printed to date and very different from anything I've written for work. This matter became so personal for me so quickly—it was  difficult to tell it any other way.
Electoral politics get messy and tiring, and we put a lot of emphasis on voting and the election of good candidates. We must always remember that it takes constant vigilance to ensure those candidates, once elected, have the support they need to do the good hard work we need them to.
I've spent 12 hours in the last 3 months attending board meetings. I consider myself privileged to be able to do that. The world continues to appear dark and dreary in so many ways, and it's nice to be able to write about a shining example of hope and a good outcome for once but it took a lot of work. And there is more work to do.