Today, Governor Michelle Lujan Grisham signed SB8 into law, allowing New Mexico to now set our own clean air and hazardous waste standards. This is an important step forward for New Mexico on two fronts as we continue to deal with the effects of climate change around the world but specifically here at home. In some instances, the regulation of substances like PFAS, a chemical found in fire suppression systems and used often on military installations, has not and is not currently, been regulated at all by the federal government, so when communities like those around Holloman Air Force Base and Cannon Air Force Base have been negatively impacted by PFAS contamination, the legal recourse by those communities and the state have been extremely limited.
Additionally, during the previous federal administration, we saw Trump's Environmental Protection Agency essentially disregard most reasonable minimum requirements for air quality for emissions from the oil and gas industry, and despite the fact that Biden's administration appears to be working to reverse that, there are no guarantees that future administrations will be as responsive. New Mexico now has a mighty tool to effectively deal with climate-harming methane emissions across the state.
However, we'd be remiss to not point out that this bill was really one of only a handful of bills that directly impacts the oil and gas industry to have passed this year's legislature. The New Mexico Oil and Gas Association (NMOGA), the Independent Petroleum Association of  New Mexico  (IPANM), and hired corporate lobbyists from Texas, California, and New York-based companies like Chevron and ExxonMobil were ubiquitous at every committee meeting, clearly coordinating talking points, and working to push the narrative that oil and gas "are just too important to New Mexico to do ANYTHING that might affect the bottom line." Joining them was the New Mexico Chamber of Commerce who, (un)helpfully, laid out their opposition to all the bills we're talking about on their legislative agenda: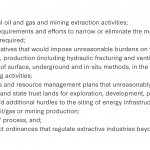 The reason why so much climate-focused legislation failed is probably obvious, but it must be said out loud so that our lawmakers and the executive branch  KNOW there is still work to be done and we WILL continue to demand change. The stranglehold the oil and gas industry has on New Mexico politics cannot and should not reach so far as to limit reasonable policy changes aimed at protecting our communities' physical health and the long term economic health of New Mexico, both of which are now directly negatively affected by oil and gas.
For example, the state's first comprehensive legislative effort to address climate change and ease a transition to a just and more equitable economy — House Bill 9, The Climate Solutions Act — died on the vine, a victim of corporate pressure and a lack of support from the Governor's administration.
A bill aimed at addressing the radioactive toxic waste produced as a result of fracking was summarily killed in committee before making it to the floor of the senate. Despite the overwhelming support for that bill from the members of the public who showed up en masse to support it, a handful of corporate lobbyists from the oil and gas industry spoke against it, and poof, the bill died.
Similarly, a bill addressing clean fuel standards that had made its way all through the Senate and House Committees appears to have fallen victim to the lack of time to hear it at the end of the session — and we can be sure the House Republicans would have wasted a lot of floor time trying to filibuster it. It's not a coincidence that of all the bills that could have been sacrificed, a bill opposed by groups like NMGOA, IPANM, and their shadowy DC-based big money backers Power the Future, the clean fuel standards bill was the chosen one.
Last year a handful of corporate-backed Democrats were ousted around the state during the primaries. This stemmed from the continual obstruction of progress on issues like abortion and cannabis legalization to minimum wage and paid sick leave; not to mention climate-related bills. This year we saw the fruits of that electoral pruning as 2021's combined sessions resulted in what can only be described as a progressive landslide for protecting abortion access, legalizing cannabis, and instituting paid sick leave. Climate bills, however, remained mostly DOA. Don't get us wrong, issues like community solar and the creation of the Sustainable Economy task force are absolute wins, and no doubt the oil and gas industry stood against those too, but the bills like SB86 and HB9 really had teeth and directly impacted the extraction industry remain elusive.
We're thankful to the governor and the bill sponsors of SB8 (Senators Wirth and Lopez and Representatives Chandler and Small)  for carrying it through. It will have much-needed and far-reaching impacts on communities across the state. But we know there is more to do, much more, and we're not going to rest on the laurels of other victories while the oil and gas industry continues to run the Roundhouse from deep in the shadows. The demand for action is louder than ever, is more inclusive and diverse than ever, and we know the political will is there, it just takes bravery to stand up to out-of-state corporations.