During the 2023 legislative session, New Mexico scored some significant victories for reproductive and gender-affirming health care freedoms and protections. However, the entire 60-day process of #NMLeg 2023 was extra difficult to get through as we witnessed an alarming amount of harmful false narratives — anti-abortion and transphobic rhetoric from the GOP and their supporters in committees, floor debates, and social channels.
With the fall of Roe just last year, our state saw a flurry of city and county-wide anti-abortion ordinances throughout New Mexico. In the rest of the country, we saw other states enacting archaic laws on abortion and politically-motivated attacks on gender-affirming health care. Even as New Mexico progresses in becoming a national leader in full-spectrum reproductive care and gender-affirming care, we can't help but notice those stark divides in our country with trans-phobic rhetoric coming from the GOP including from  our state's Republican party.
This legislative session, much like previous sessions, advocate organizations like Bold Futures, ACLU-NM, Planned Parenthood of the Rocky Mountains, Forward Together Action, Tewa Women United, Equality New Mexico, and ProgressNow NM came together with legislators to rally support for HB7, the Reproductive and Gender-Affirming Health Care Freedom Act, SB13 the Reproductive and Gender-Affirming Health Care Protection Act, and other bills that would improve the lives of LGBTQ+ people and other marginalized communities. 
While everyone did a fabulous job in organizing that support, we watched, screen recorded, transcribed and documented the hateful rhetoric of the GOP and their supporters. We heard them spew their gross mis/dis information on abortion, countless dark hypotheticals, and remark after remark aimed towards our Trans youth. All while young advocates—like the high schoolers who repeatedly showed up to the Roundhouse to pass HB14, the Menstrual Products in School Bathrooms, which has been signed by the Governor Michelle Lujan Grisham— and even younger kids visiting the Roundhouse on school field trips and regular New Mexicans who just want to better their futures, heard these deeply alarming narratives.
Representatives like Block, Montoya and Lane were among those who propagated baseless stories about a fictional 10-year-old girl inquiring about abortion information from educators and school counselors. Senator Sharer's prolonged protest of perinatal care and disregard for maternal mortality issues was also evident in his long-winded monologue on infanticide. False narratives were not limited to male representatives, as Representatives Reeb and Brown also made numerous unfounded accusations against our dedicated providers who offer care to New Mexicans. With countless amendments proposed on both Senate and House floors, the amount of mansplaining abortion and ignorance on reproductive health care was grueling.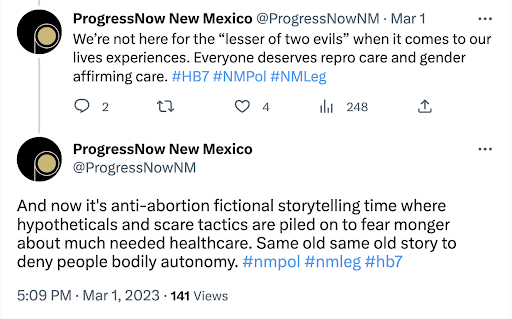 The GOP's repugnant behavior wasn't limited to their attacks on reproductive health care. They also targeted queer, Trans and Nonbinary youth. Block, a self-loathing gay man, promoted transphobic messages about bathrooms, locker rooms, and sports. Similarly, Senator Schmedes advocated for conversion therapy, citing flawed examples from Sweden and Europe to support his dangerous views.
The reality is that in the world of reproductive health, rights and justice advocacy, we're no stranger to these harmful falsehoods. We're not even new to the actual violence the GOP and other anti-abortion opponents incite. For decades, we've seen the façade of the anti-choice groups try to brand themselves as "pro-life." Through their support of imprisoning and punishing people who access safe abortion care, silencing doctors, doing nothing about maternal mortality rates, and then refusing to pass ANY gun laws that would ultimately protect our children from school shootings, the hypocrisy of the "pro-life" movement has never been more obvious. And now, with the wide use of social media, it's never been easier to read what legislators believe and what kind of dangerous rhetoric they want to push to their supporters, causing a deeper divide. To further add to their own agenda, they've elected and appointed those same extremists to sit on our courts and they are issuing alarming decisions that have real effects on our country, like the latest news on the Mifepristone case that may affect every state, regardless of state protections.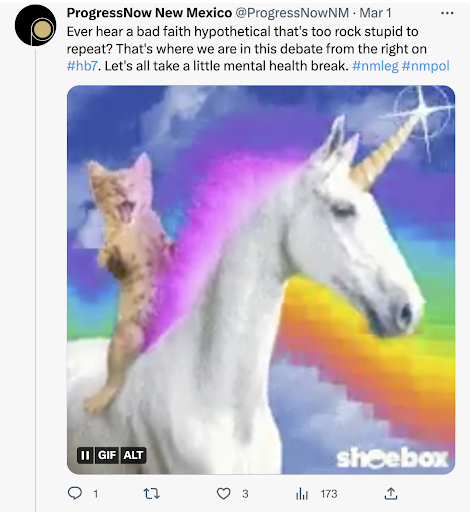 Now that the legislative session is over and legislators are back to their day jobs, we're left wondering: how can we do better by New Mexicans to bring bi-partisan progress that benefits all of New Mexico when the GOP pushes anti-democratic, anti-women, transphobic, and pro-oil and gas narratives every chance they get? Our entire progression as a state is at risk when these narratives are allowed to persist unchecked. We can't let the New Mexico GOP push us further into their hateful, archaic views and until they put people first, their claims of wanting bi-paritsan abortion and gender-affirming care bills are merely talk.