Last year New Mexico's Economic Development Department (EDD) sent out an official Request for Proposal (RFP) to hire a contractor to come up with concrete steps to move the state away from our dependence on oil and gas revenue.
They hired a notorious oil and gas lobbyist to do that work.
The point of hiring a contractor was, according to the language in the RFP, "to outline a concrete action plan for economic diversification away from the state's current dependence on the oil and gas, retail, and public sectors over 20 years that shall include legislative and infrastructure strategies."
This is a wholly worthwhile endeavor that we support, so imagine our surprise when earlier this month we saw a familiar face from the oil and gas industry presenting to the Sustainable Economy Advisory Committee about the work he was doing now that his firm was selected to fulfill this role.
Gerges Scott (the familiar face) is a professional lobbyist in New Mexico and is Vice President of Agenda Global, a lobbying firm that represents Chevron and ConocoPhillips, as well as Holtec International, the company trying to dump nuclear waste in the state. Scott and Agenda won the $100,000 contract to diversify "away from the state's current dependence on oil and gas" through a competitive bidding process responding to that RFP.
There's A LOT to say about Agenda Global and the state's RFP process, but it's all so wild we need to take it slow.
First things first, back to Mr. Scott, who has presented now twice to EDD boards about the work relating to the Comprehensive Development Strategy. Scott is currently listed as a "Policy Advisor" for The Heartland Institute, and THAT is where we really need to start asking some questions.
If you don't know, "The Heartland Institute is an American conservative and libertarian public policy think tank known for its rejection of both the scientific consensus on climate change and the negative health impacts of smoking."
Yeah, the guy tasked with spearheading New Mexico's transition away from our reliance on oil and gas works for a lobbying firm that represents multiple Big Oil companies AND is a policy advisor for THE NUMBER ONE climate-denying think tank in the world… What could go wrong?
At this point, we thought this story was bad enough on its face, but we wanted to understand a bit more about how this hiring process happened and why New Mexico gave this pro-oil lobbyist firm $100,000 to tell us how to move away from oil and gas. And wouldn't you know it, we opened a can of worms.
Turns out the founder and president of Agenda Global is former Republican Gubernatorial candidate Doug Turner. He ran in the primaries back in 2010 to the RIGHT of Susana Martinez. His firm, Agenda, has been wrapped up in issues about moving money around in political circles before (ProgressNow New Mexico has a LONG memory) and so it seemed worth digging into some background on him and the procurement process aside from Scott's involvement.
In being awarded the $100,000 contract from EDD, Agenda had to sign a stack of papers about the scope of work. Many of these are boilerplate declarations about potential conflicts of interest to, you know, keep people from making money off taxpayer money when they have a vested interest in a particular political outcome.
Looking at the contract Agenda COO Chris Taylor signed on 1/23/23, he circled that Agenda "does NOT" have anyone employed that falls under that listing of conflict of interest.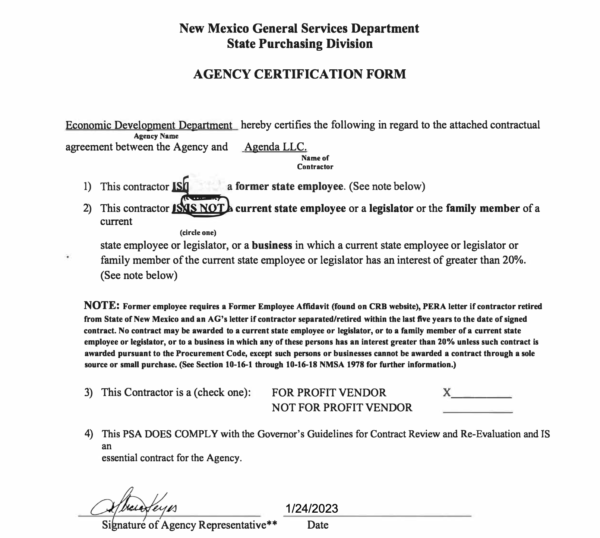 However, currently State Legislator Representative Joshua Hernandez is the Digital Media Director of Agenda Global and has been employed by them since 2017. And as mentioned, not only is Scott a registered lobbyist which maybe isn't technically in conflict with that question, but he is ALSO a former state employee, having served as the Communications Director for the Corrections Department under Gary Johnson.
ADDITIONALLY, the form also asks about any political contributions from the contractor made to any candidate or elected official in the state within the last two years over $250. Agenda also circled "no" on that question.
However, from what we could find, it appears that Turner made a $500 donation to Senator Crystal Diamond in 2020, outside the two year window BUT, Diamond did receive donations in the THOUSANDS from Chevron, ConocoPhillips AND Holtec International last year according to her filings.
And again, looking at Scott's involvement as a registered lobbyist, there is a filing last year that shows he took Republican Senators Cliff Pirtle, Bill Sharer, Mark Moores and Greg Baca out for "meal and beverages" to "discuss legislation" under Holtec's banner which exceeded $250.
Everyone in New Mexico knows we're overleveraged when it comes to our reliance on oil and gas revenue. The state has said as much with reports from the EDD as well as at the legislative level through the Legislative Finance Committee.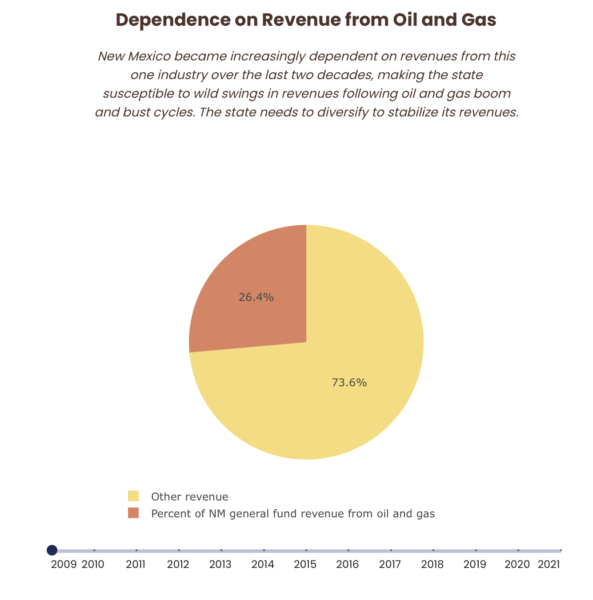 In the last month, we've seen the current administration reeling from the dismal lack of effort to address climate change in New Mexico during the legislative session. And while ProgressNow NM has been shouting for years about the outsized role oil and gas plays when it comes to state politics, finding out that the state's process for addressing that exact issue resulted in hiring a climate-denying oil and gas lobbyist to do the work, is beyond the pale. How can the people of New Mexico trust the administration will do what it takes to act on climate when even in the economic discussions, the oil and gas industry is steering the ship?
Thankfully the scope of the current contract that Agenda is fulfilling ends this summer. The next phase of the work involves another round of RFPs and we hope the state will do better next time around.