Last month we joined some amazing young people at the New Mexico Legislature as they gathered in solidarity to raise awareness of the extremely toxic relationship our entire state government has with the oil and gas industry. Dozens of folks from Dreams in Action, a BIPOC and immigrant youth-led organization, and YUCCA (Youth United for Climate Crises Action) rallied on the steps of the Roundhouse to call out politicians who take oil and gas money and continue to do their bidding despite the clear will of New Mexicans to move on from that industry.
After the rally outside, marchers went inside the people's house to demonstrate and let any lawmakers there know that they were going to be holding them accountable. Republican Representative Rebecca Dow, one of the largest recipients of oil and gas money in the state, did happen to be there, and boy oh boy was she not happy to see protesters bashing her cash cow donors.
Her unhinged cries for the youths to undress are a little upsetting without context. What she's really saying is we're all beholden to King Oil, and if we're going to be ungrateful, we should all go without the modern "conveniences" of products or services monopolized by the oil and gas industry. Of course, such hyperbole is ridiculous on both sides, folks are not calling for the abrupt end of oil and gas TODAY  as much as they are trying to bring awareness to the fact that oil money has an outsized role in our state's economy and especially our political atmosphere. At the same time, Dow's argument is ridiculous because ending that reliance on oil and gas significantly shifts the entire paradigm of the world, which is the point, right?
Dow is by no means the only legislator to take oil money. Congresswoman Yvette Herrell is one of the largest recipients, despite her being the last pick of NMOGA even after her Democratic opponent Xochitl Torres Small last year. Now that she's in Congress spouting Qanon drivel and seems to be back in the good graces of the oil industry. She and Dow appear to be on pretty good terms as seen in this picture from this weekend at the New Mexico Cattlegrower's Association meeting: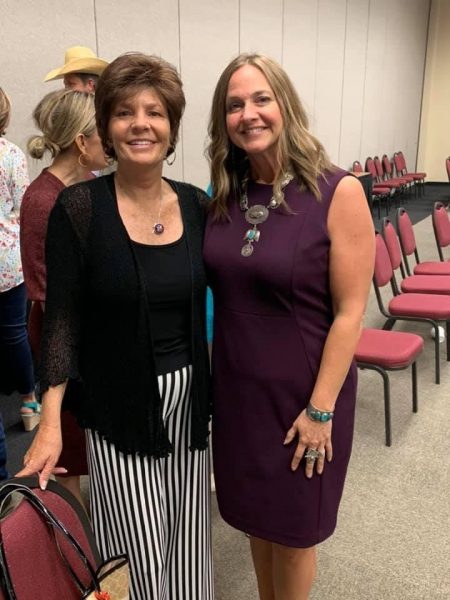 As reported in The Guardian, it's not just the GOP reaping the windfall profits that the huge oil companies make off New Mexico resources, plenty of Democratic lawmakers in the state receive outsized support from them too. And that really was the point of the action last month, to call attention to the fact that we'll never be able to move on from relying on oil and gas revenue to fund the state as long as the politicians are relying on oil and gas money to fund their campaigns.
Crude Intentions
ProgressNow New Mexico was onsite with our friends to help lift up their message and to share that we are launching an ongoing campaign pointing out the Crude Intentions of the oil and gas industry here in the state. Be sure to check it out at CrudeIntentionsNM.com. You may have seen the mayor of Carlsbad this week bemoan the "relentless attack" on oil and gas based on our ads in the Carlsbad Current-Argus, but we'd just like to say if Mayor Janway thinks us publishing one ad in a local newspaper is "relentless," we have some disappointing news for them considering the myriad of bills the oil and gas industry managed to kill JUST in 2021's legislative session, let alone over time.
Be sure to visit CrudeIntentionsNM.com to learn more!