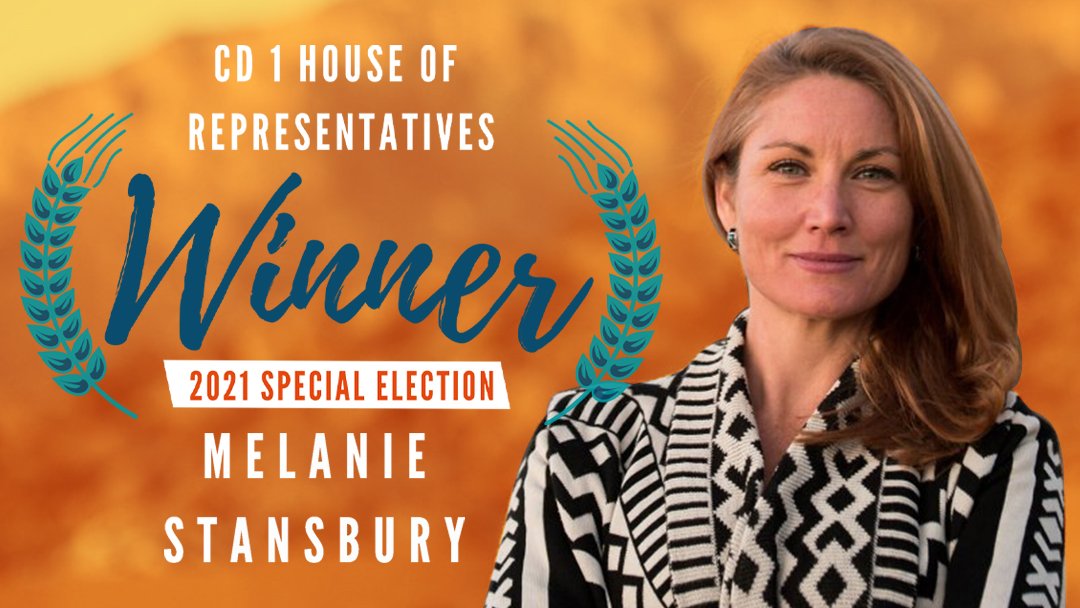 Congratulations, Congresswoman-Elect Melanie Stansbury!
About Melanie Stansbury, Democratic Candidate for Congressional District 1
Melanie Stansbury was born in Albuquerque and raised as a New Mexican organizer. Stansbury has dedicated her career to the "heart of New Mexico" — the community that showed her care and support. After years of work on land, water, and community issues in New Mexico, Stansbury went to Washington D.C. where she joined the staff of the Office of Management and Budget during the Obama administration and later the U.S. Senate in the Committee on Energy and Natural Resources to work on these issues at the national level. She currently serves as the first woman elected as State House Representative to District 28. Stansbury is committed to lifting up the voices of New Mexicans, addressing food and housing insecurity, fighting for universal access to healthcare, building and diversifying our economy, protecting our sacred lands and waters, and tackling global climate change. 
Endorsements
Sen. Elizabeth Warren
Dr. Jill Biden
Gov. Michelle Lujan Grisham
Planned Parenthood Action Fund
EMILY's List
Moms Demand Action
SMART UNION
Albuquerque Area Fire Fighters – IAFF Local 244
International Brotherhood of Boilermakers
AFSCME
Safe Communities Coalition
Democrats Work for America
Bernalillo County Federation of Democratic Women
Southwest Carpenters
League of Conservation Voters Action Fund
LiUNA
Progressive Caucus
Equality New Mexico
Demand Universal Healthcare
Sierra Club Rio Grande Chapter
Diné Equality
NM Native Vote
UNM College Democrats
314 Action Fund
Climate Hawks Vote
Important Dates:
May 4: CD 1 Voter registration ends (by mail or online).

(Missed it?

Same day registration is available

.)

May 4: First day that absentee ballots can be mailed to voters (who have submitted an absentee application), and first day that voters can cast their vote in person at their local county clerk's office.
May 15: Additional early voting locations open.
May 18: Last day to request an absentee ballot (domestic).
May 25: Last day to request an absentee ballot (Military-Overseas).
May 29: Last day of early voting.
June 1: Election Day.
Information provided by the Secretary of State. For more: NMVOTE.ORG